Alternate Reality Games for Orientation, Socialisation and Induction (ARGOSI) was a JISC-funded project that ran from April 2008 to March 2009. It designed and piloted an Alternate Reality Game (ARG) to support the student induction process. This small-scale pilot project was a collaboration between Manchester Metropolitan University and the University of Bolton, and aimed to provide an engaging and purposeful alternative to traditional methods of introducing students to university life.
What is an Alternate Reality Game?
An Alternate Reality Game consists of three elements: an underlying narrative or story, a series of challenges or puzzles, and a collaborative community. While all three elements were be facilitated online, many challenges took place in the real world, and some were designed to be individual, while others were collaborative.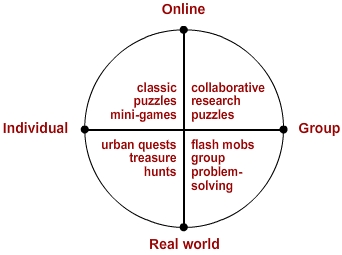 The ongoing story that runs throughout the game provided coherence and context to the challenges, and the game community provided a forum for students to share information, provide hints for each other and work together. As well as the universal induction aims of encouraging students to make new friends and get to know the city, in this pilot the focus was on a single area of the induction curriculum: introductory library and information skills.
Objectives
The ARGOSI project aimed to meet four research objectives. These considered whether an Alternate Reality Game is an effective and appropriate medium for enabling students to:
meet the intended learning outcomes of the library and information skills induction;
create social networks during the induction period;
improve their confidence in navigating the city and university campus;
engage in, and enjoy, the induction experience.
Technical implementation
Producing the game environment required the development of an online environment that connected together of a number of components:
A story site that acts as an introduction to the game. The story site took the form of a character blog for one of the main characters in the game. This was implemented using Blogger, partly for heightened reality within the game, partly for convenience, and partly to increase participantsí familiarity with a wider range of external services. Another web site was developed for an in-game organisation to support a specific challenge.
A challenges site that provides participants with access to the challenges, the current leaderboard, the ability to enter answers to challenges, including uploading photos evidencing achievement of live (real-world) tasks. This site was constructed using Ruby on Rails, a rapid development environment well suited to rich web applications, with good support for automated testing.
A community site was integrated into the core challenge site, and offers personal profiles, community forums and private messaging to support participants' discussion of the challenges and story.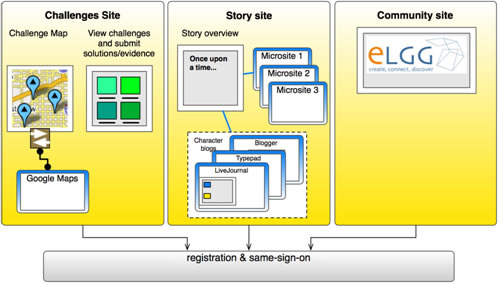 The ARGOSI team
Nicola Whitton, Manchester Metropolitan University, Project Manger;
Scott Wilson, University of Bolton, Technical consultant;
David White, Oxford University, provided expertise on the construction of digital narratives;
Rosie Jones, Manchester Metropolitan University, provide expertise on the design and implementation of student induction, particularly in the area of library and information skills;
Peter Whitton, provided graphic design expertise to ensure a professional, consistent and integrated look to the components of the ARG;
Katie Piatt, Brighton University, has been using a similar game with her students for a year and the project drew upon her experience and lessons learned;
Student participants were involved in all aspects of the design, development and evaluation.
A Romanian translation of this page is now available.
An Indonesian translation of this page is now available.